Lee Pond – Moultonborough, NH
Lee Pond – Moultonborough, NH
Lee Pond – Moultonborough, NH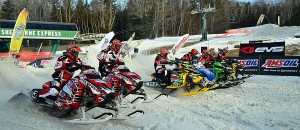 ECS riders to perform on wood chip track at famed NHSA Grass Drags & Water Cross
CHESHIRE, Conn. (Aug. 27, 2013) — While the 2013-14 snowmobile snocross season may still be a few months away, several top athletes from the East Coast Snocross (ECS) series will have a chance to shake off the cobwebs a little early.
Officials from the northeastern regional sanctioning body have reached an agreement with directors of the New Hampshire Snowmobile Association (NHSA) to add a "snocross on wood chip track" exhibition race to the annual NHSA Grass Drags & Water Cross, slated for Oct. 11-13 in Fremont, New Hampshire.
Competition will take place periodically throughout the day on Saturday and Sunday, with a practice session planned for Friday afternoon. This event will include a "meet and greet" opportunity, allowing fans a chance to interact with ECS racers to gain insight on the exciting sport of snocross.
Read Full Article →
Moultonboro, NH – The Lakes Region Ice Racing Club sponsored 2 days of automobile, oval track ice racing last weekend on Berry Pond in Moultonboro, NH. Saturday featured the largest ice racing event in the northeast, the 28th annual Latchkey Cup. Ice racers from the Milton and Jaffery clubs again joined the Lakes Region racers to make the Latchkey the largest ice race in the northeast. On a chilly Sunday the racers returned to Berry Pond for the Club's regular weekly event.